Kisses on My List & you can see my preview of it with some information
!
From the Anastasia of Beverly Hills site:
A kit within a clutch. A nod to the glam and decadence of the 1970's.
Kit styled like a clutch and features a removable eye shadow palette for a takeaway touch-up wherever your night takes you. Nine long-wearing eye shadows create a range of looks from neutral to dramatic to smokey.
FEATURES & BENEFITS
- Velvety smooth matte and hydrating Illumin8 shimmer shades keep eyes looking glam and crease-free.
- High-pigment shadows can be worn dry for a sheer wash of color. Wear wet to transform shadow into liner or for a bold metallic finish.
- Dual-sided eye shadow brush included.
- Jet black liquid eye liner creates the perfect thin line for a dramatic eye.
- Mini Clear Brow Gel sets brows in place all day and night.
KEY INGREDIENTS
Youthful SynergyTM Complex in Shimmer shades.
Brown Algae - A key ingredient that smoothes, firms, hydrates, and revitalizes the appearance of skin.
Diamond Core Powder - Diffuses light for a soft focus effect.
Sea Whip Extract - Soothes the skin.
Macadamia derivative - A natural hydrator capable of holding up to 300% more water in the skin.
Powerful antioxidants of Vitamins A, B, C, E, and F. Balkan Botanical Infusion®.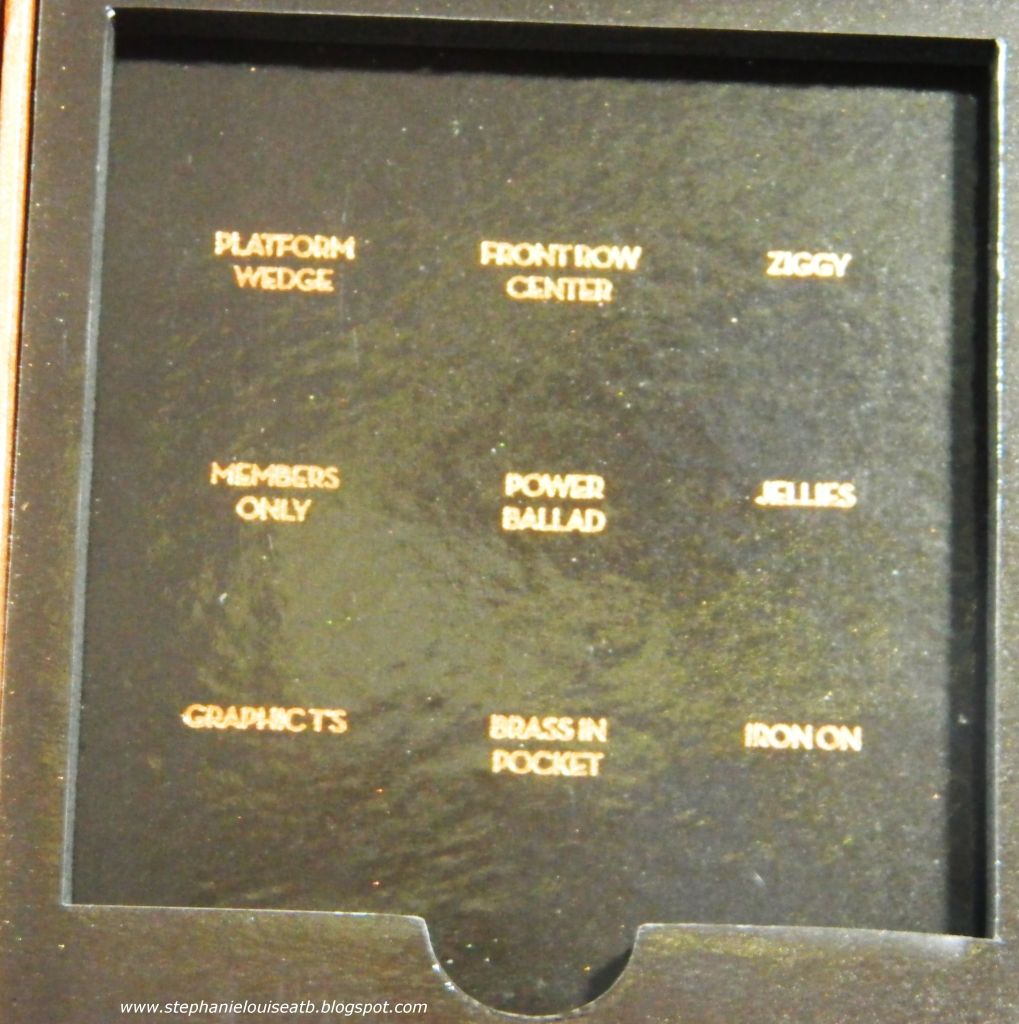 The coppery/gold printed metallic chain goes around to the back as well on both the kit & the eyeshadow palette. I love the simplicity. You can see the names of the shades beneath the palette. The interior is a brown with a slight shimmer that was only visible after trying to photograph it. I had to mess with it a bit because the names are metallic so they were somewhat reflective. Love the giant mirror in the kit & in the palette. The double-ended brush is also a nice edition, I actually use these!
I swatched all 9 of these dry & they are beautiful. I didn't swatch them wet this time (oops!) but I'll be doing looks with them wet so you can see how crazy beautiful they are. I personally love that this palette isn't red, green, & white like so many holiday palettes are because I can wear it year round.The 70s names are so freaking cute, love the whole idea. Again, something to enjoy even after the holidays are over.
The shadows themselves are incredibly smooth, long wearing, & just wonderfully butter. These have a bit of fallout here & there so tap your brush before application & for a stronger shades use it wet. These are made to look phenomenal on skin of all ages & these shimmers are to be forgiving on wrinkled lids as well.
Bottom row left to right: Power Ballad, Jellies, Graphics Ts, Brass in Pocket, Iron On.
Platform Wedge: A soft matte nude.
Front Row Center: A shimmering fair nude/champagne.
Ziggy: A light to medium lavander with a frosty/metallic finish.
Members Only: A light, soft matte brown.
Power Ballad: A shimmering taupe.
Jellies: A light shimmering pink.
Graphic Ts: A cool toned brown with purple, gold, & bronze shimmers.
Brass in Pocket: A slightly warm toned nude bordering on metallic.
Iron On: A super deep plumy packed with light purple & medium purple shimmers. This might even have a bit of brown in the plum base.
You can pick up this set for only $34 (a $90 value!) at Sephora & Anastasia of Beverly Hills. These sets are VERY limited edition & completely sold out last year.( The She Wears It Well Palette I reviewed has also sold out!) If you want one, grab it ASAP!
What do you think? Loving the shades & wearability or are you looking for something more holiday-toned?
**Products provided in consideration for review from PR. All my opinions are 110% my own.