Holiday 2012 sneak peek post
awhile back? Well it is time to finally review after giving each shade a loving test drive. When it comes to lippies, I love them all. Tints to glosses & mattes to high sparkle, I want it all. I first reviewed the
Anastasia of Beverly Hills See & Be Seen set
over the summer when I was in California for IMATS 2012. The 2 shades in the See & Be Seen kit were Plastic & Heiress. We've had a serious love affair ever since. Keep reading to see these glosses in all their glory!
So every year
Anastasia
puts together these amazing kits for the holidays that are seriously steals. These 6 glosses are only $34...cheaper than many of my drugstore picks. Yes, you did read that right! The only issue? THESE SELL OUT. If you want them, don't wait.
I feel like this collection of glosses was created just for me honestly. I love
Heiress & Plastic
(in fact it's bordering obsession) but they are brighter & I like to wear something a bit more subdued for Fall/Winter. I tend to wear lots of darker eye looks or dramatic eyes which call for something a bit more...wearable. Each shade will be perfect year round, these are not your standard holiday glosses.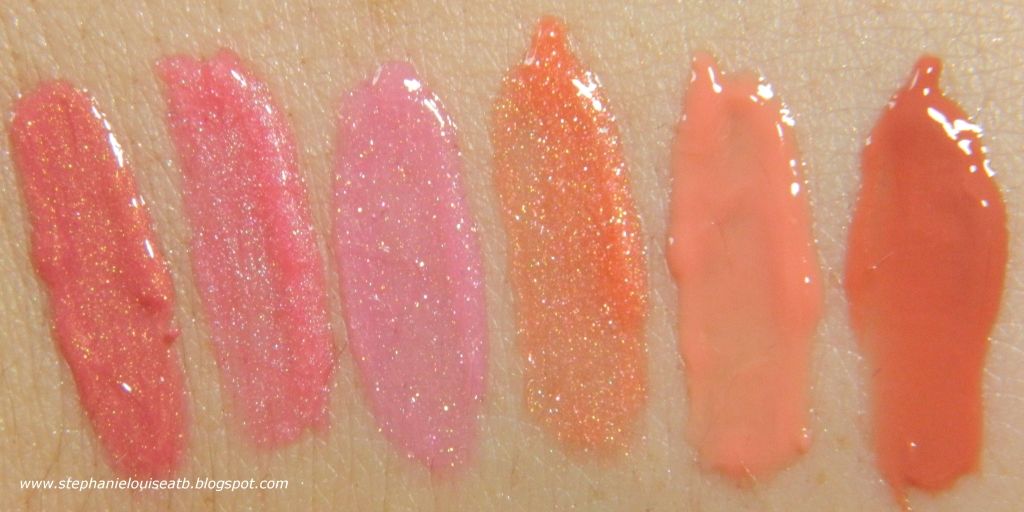 Shades left to right (2nd photo with flash): Roxanne, Jolene, Lola, Sharona, Maggie May, & Moi.
Roxanne: My favorite & also the one pictured in the applicator photos. Have you seen this shade before on my blog? Why yes, it is a slightly mauver sister of one of my favorite nail polish shades,
Spoiled's Shrimp on the Barbie
. Basically, it is glorious. This is a mauver pink with a beautiful gold sparkle.
Jolene: A medium to light pink with a slightly frosty shimmer. This doesn't look frosty on the lips, it translates to more of a shine.
Lola: A very cool toned light pink with almost a slightly lilac tone in there. This has a beautiful slightly warm shimmer. The combo makes it very different but also very easy to wear.
Sharona: This is a beautiful peach & a bit more sheer. This too has the slightly frosty looking shimmer that translates on the lips as shine.
Maggie May: This is a super creamy pink toned nude. I find this to be a lot easier to wear than your standard opaque nude gloss.
Moi: This is a new shade to me, kind of a nuded out pink? It is probably going to lean more pink on most skintones though. Very creamy & opaque.
Texture wise, these are my besties. These are nice & thick but apply thin. It is seriously hard to explain. I like thicker/stickier glosses, especially in colder months, because they last. The big issue with thinner glosses is they don't last & I rarely ever wear them on their own. These can definitely be paired with a lipstick but I wear these on their own as well. While they range in opacity, there isn't one that I have in my stash as "only over ____" does this look right. Plus, some of them even tint your lips which I'm a big fan of. These have a light scent to them but I honestly don't smell the vanilla on my lips after application. They all look wet/shiny but can be sheered out a bit or built up.
Sephora
& the
Anastasia of Beverly Hills
site. These sets are VERY limited edition & completely sold out last year.( The She Wears It Well Palette I reviewed has also sold out!) If you want this set at this value, grab it ASAP! I wasn't kidding when I said these glosses were some of my very favorites, from applicator to formula!
What do you think? Loving the shades & wearability or are you looking for something more holiday-toned? Don't forget to check out the Want You to Want Me clutch set for Holiday 2012 also from Anastasia Beverly Hills, the full review also has swatches!
**Products provided in consideration for review from PR. All my opinions are 110% my own.