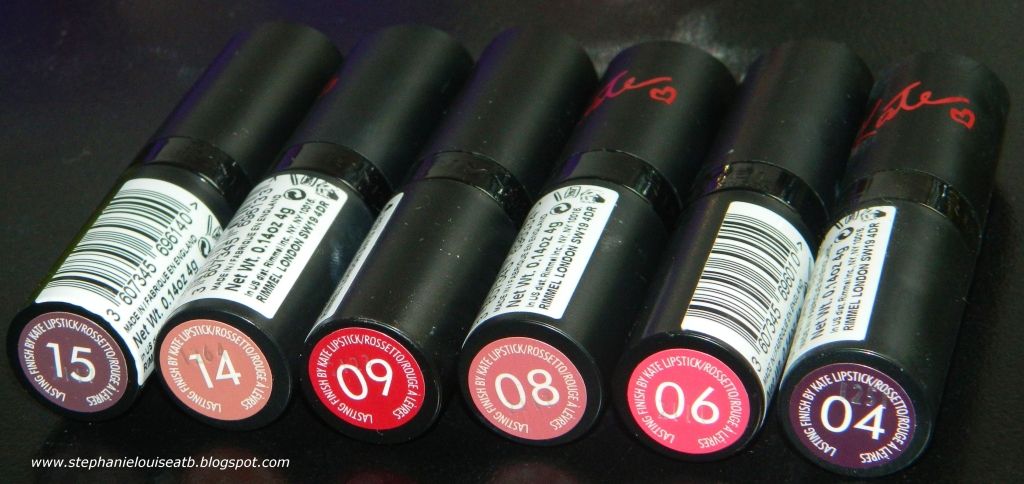 So I have been trying more & more from the oh-so-reasonably priced Rimmel London line & fell head over heels for these lipsticks. Moisturizing enough for normal lip, gorgeous pigmentation, & shades that I haven't found other places are what drew me in. Even convinced me to buy doubles.
These aren't all pigmented the same, but that's okay with me. Variety is the spice of life dahling. 2 of these shades are ones I keep in my purse at all times (yes, I bought doubles!) & they are absolute perfection. #04 was bought on a whim because, well, who doesn't need an extremely dark, gothic-esque purple? #15 was also a recent purchase, mainly for the upcoming Halloween festivities. I'll talk about that on its own though. The ONE negative I have is that they aren't sealed so ALWAYS open them up to make sure they are messed with. I also sanitize them before use when I get them home.
Left to right: #15, #14, #09, #08, #06, #04.
#15:
This looks weird right? Well here's the deal: it is a true layering shade. Although I'm not sure if you're supposed to absolutely layer it over or under another shade, I've done both. It darkens it up a bit which gives you a new shade. If you go for lighter berries, this might help you transition for fall! I'll be covering more about this in an upcoming post all about Drugstore Finds for Halloween.
#14:
This is hands down the #1 lipstick I have on me at all times. Ladies, this is one of the oh so few nudes that looks good on my skin. I mean VERY few. It looks beautiful, makes me look still alive, but is the perfect base for anything. Purse lipstick, oh so important. Clearly, this is one of the 2 I always have on hand...nude goes with anything. I consider this my Holy Grail Nude Lipstick.
#09:
This is perfect for fall, a berry/pink leaning red. This is wonderfully cool without being COOL. This would look fab full on & also a bit more sheer. Because these aren't wet, they last really well too, even with a touch of gloss. I plan to wear this at some holiday get togethers!
#08:
A wonderful MLBB (My Lips But Better) shade for me. It leans a pit more nude/mauve so it helps me to feel put together without having to go naked. I often pair this with a smoky eye when I think a nude lip would be too harsh.
#06:
The other shade I keep in my purse? Surprising? I love red as much as the next girl (unless you're Gwen Stefani, she REALLY loves red lips!) but for me, a hot pink is a better statement color. Is it more spring/summer? Sure! But it is striking & paired with just mascara is a super easy look. This one wouldn't swatch right or look right in the tube, so imagine it much brighter!
#04:
This is probably not the shade I should have gotten, but I did. Will I wear it? I honestly don't know if I will for anything other than dramatic makeup looks. It is significantly more sheer than the other shades so you have to build it up. It is also more moisturizing. I think I WANT to be the girl who can pull off a deep purple lip for fall...but it might take me a bit to work up to it!
What do you think of these shades? Are you a Rimmel fan? How about the Kate Moss line? They're coming out with some matte shades which I'm thrilled about!