Klutch Club
time! This is the Novembers box & it was a great mix of products! I've been really enjoying trying everything out & I can share it with you guys now! If you haven't seen any of my past
Klutch Club
reviews, this is a monthly health subscription that contains all kinds of items. There is also a men's box now!
What was in this month's November Klutch Club Box: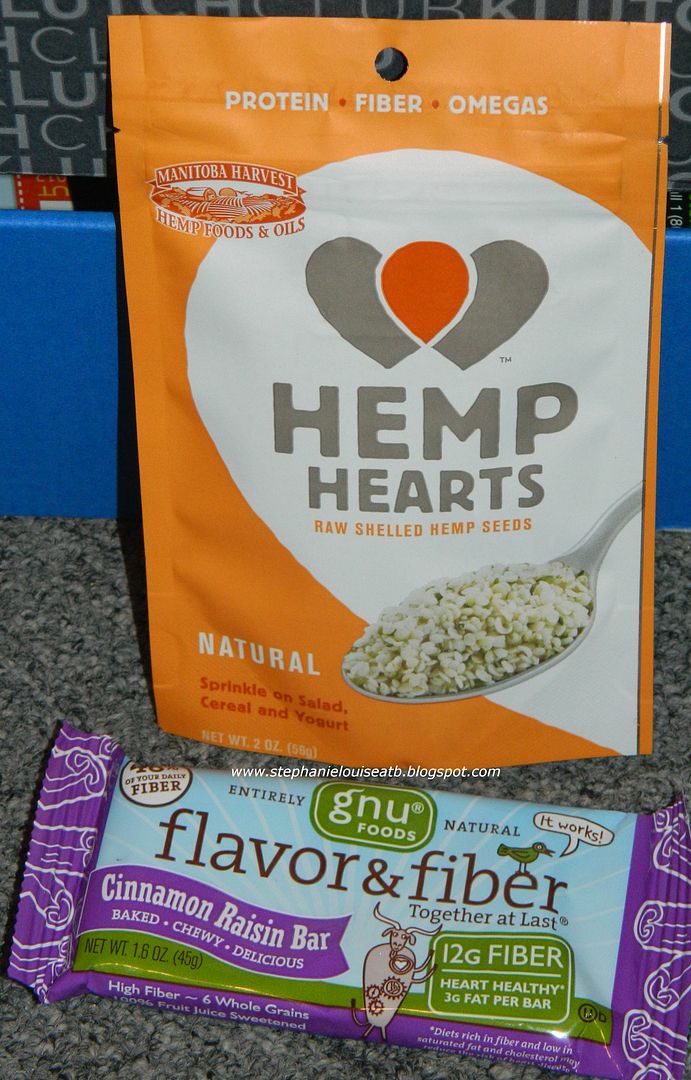 Food: Manitoba Harvest Hemp Hearts & a GNU Bar in

Cinnamon

Raisin Bar
I have fallen in love with Hemp Hearts! I have definitely never had them before & I didn't know what to expect. These have almost a pine nut type taste with kind of an earthy aftertaste. They look & taste like crushed up nuts so that is how I used them. Love the amount of proteins & omegas too! The GNU Bar isn't in a flavor I normally like (not a big cinnamon fan) but I love how soft this bar was which made it feel more like a dessert.
Drinks: Wyman's Blueberry Juice, Amino Vital Endurance Packet, Shakeology, & Green Tea Hawaii Single Servings
I admit I have only tried half of these this month, sorry guys! But there were a lot of drinks! I tried the Wyman's Blueberry Juice first of course...so tasty! I love blueberries so this was an awesome addition. One thing to note is that blueberries are one of those fruits that can stain teeth over time so make sure you whiten! I also tried one of the Green Tea Hawaii single packets in Raspberry Lemonade & totally loved it! Great flavor!
Beauty: Nature's Gate Pomegranate Sunflower Cleansing Bar, Papaya Body Wash, & Lemon Verbena Cleansing Gel + Psssssst Dry Shampoo from Freeman Beauty
I won't go too much on about the dry shampoo because I reviewed the Pssssssst Dry Shampoo awhile back but I do still really like it! I'd never tried anything from Nature's Gate before but I really liked the selection of items I got in this months box! I am a big tropical fan & this Papaya Body Wash smells great! It is rich in moisturizers & enzymes which left my skin feeling nice & soft. I am saving the little sample of cleansing gel for after my face stops breaking out so bad. The Pomegranate Sunflower Cleaning Bar is a full size & is packed full of moisturizing oils. Great scent & great for my dry skin!
Other: Acacia Strength Tone Lengthen Workout Sampler DVD
I'm not big on workout DVDs anymore (XBOX Kinnect is my bestie...hello dancing games!) but I did give this one a shot. I found the girls to be engaging but the workouts were things I've seen before. It isn't a bad sampler though 7 gives you insight into what the full product will likely look & feel like.
Overall, a great box! You can get your own
Klutch Club box for only $18 a month
(that's the box + shipping) & they are always worth loads more. I really loved the beauty products especially, but those Hemp Hearts are awesome! Another great box!
Affiliate links have been used. Box was provided by pr in hopes of review. All opinions are my own.