Hey guys! So I got this wonderful press release over the weekend, promptly lost it, then managed to retrieve it! Yeah baby! I'm super excited about this line & you'll be seeing quite a bit more Julie G & Jesse's Girl products ont he blog because, well, they're freakin fab. I finally picked up Julie's Fav from the Julie G Nail Polish line at Rite Aid when I was in California & yes, it is in fact lovely. Enough blabbing, check out the new stuff!

NEW 2013 JulieG Collection!
by Jesse's Girl Cosmetics
Jesse's Girl Cosmetics is proud to announce the expansion of their popular JulieG Collection. These 27 new nail colors were once again designed by top YouTube personality Julie Gutierrez (JulieG713). With a variety of shades, from sparkly, girly pinks to bright blues and greens, there's a color for everyone. At such an affordable price, you can rock new trendy, fashion-forward nail colors at any budget!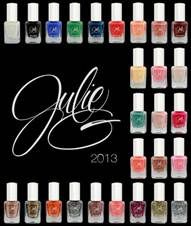 A self-proclaimed girly-girl and self-taught makeup & nail artist, in 2008 Julie began filming makeup & nail tutorials on YouTube from her bedroom and has since reached a global audience of over 100 million views. Her videos range from colorful makeup looks to edgy nail designs and even fashion tips during the weekly "Fashion Friday" segment.
The new shades are as follows:
A Star is Born- Silver glitter
Beach Bonfire- Orange
Black Sheep- Black
Bubble Bath- Shimmery pale pink
Cabana Boy- Blue
Cleopatra's Cobra- Gold glitter
Cotton Candy- Light pink
Damsel- Fuschia
Dolled up Dorothy- Sparkly burgundy
Freshly Squeezed- Creamy yellow
Holla-peno- Green
Light it Up- Clear multi-colored glitter
Liquid Metal- Sparkly brown
Little Fairy- Dark sparkly pink
Love Potion- Pale pink
Platform Wedges- Brown
Secret Treasure- Purple glitter
Shark's Cove- Shimmery mint green
Shoe-a-Holic- Bubblegum pink
Sound the Alarm- Red
Southwest Sunset- Sparkly mauve
Sugar Rocks- Bright pink glitter
Sushi for Two- Coral-pink
Tokyo Nights- Navy
Umbrella Drink- Sparkly orange-pink
White Orchid- White
You-niverse- Gold mixed with green and blue
I'll post my bottle shot of Light It Up! below which was part of the holiday 2012 collection...SO glad it will be permanent, it is perfection!
See more photos of Light It Up & Under Mistletoe here
along with swatches & color explanations!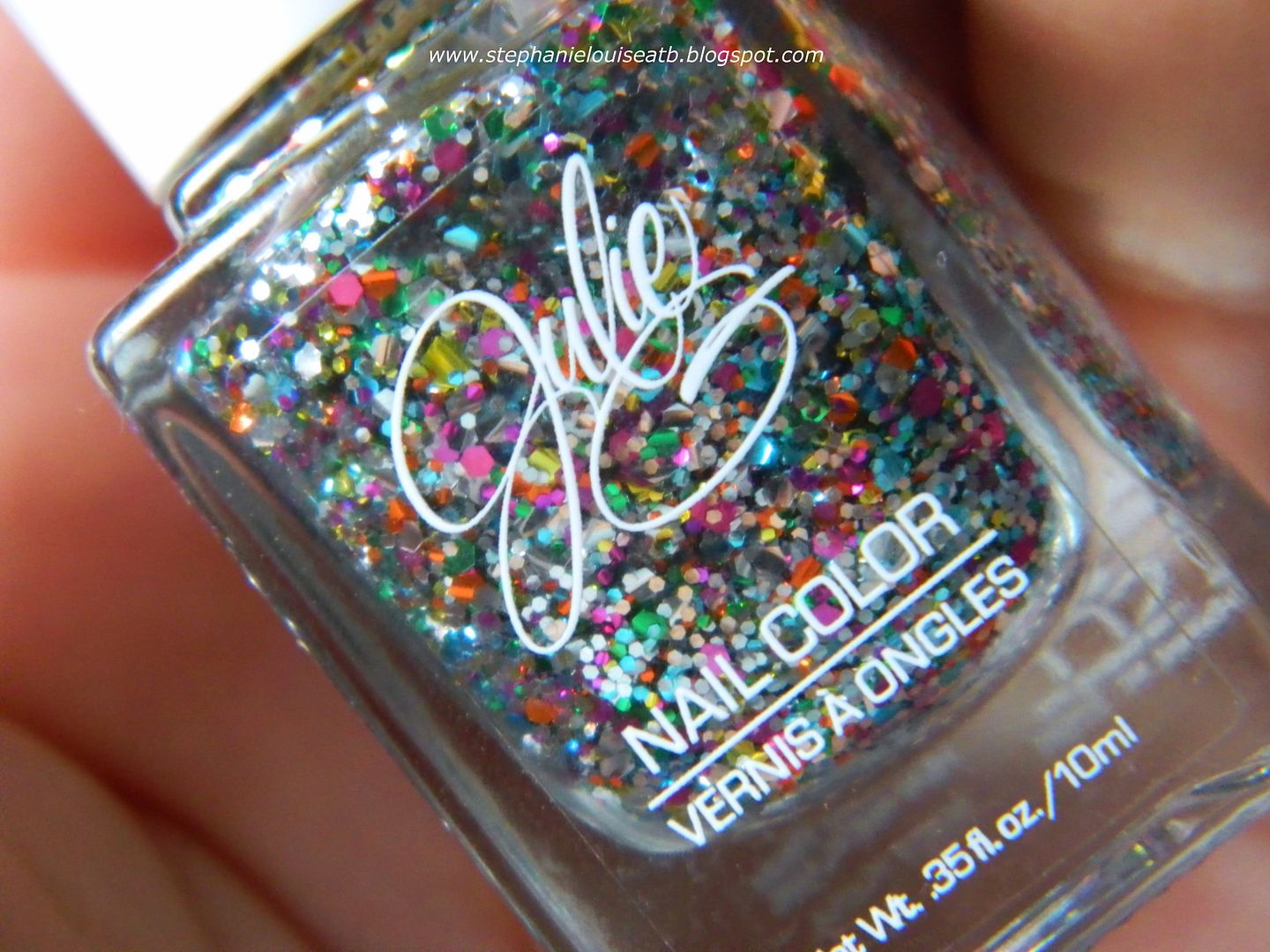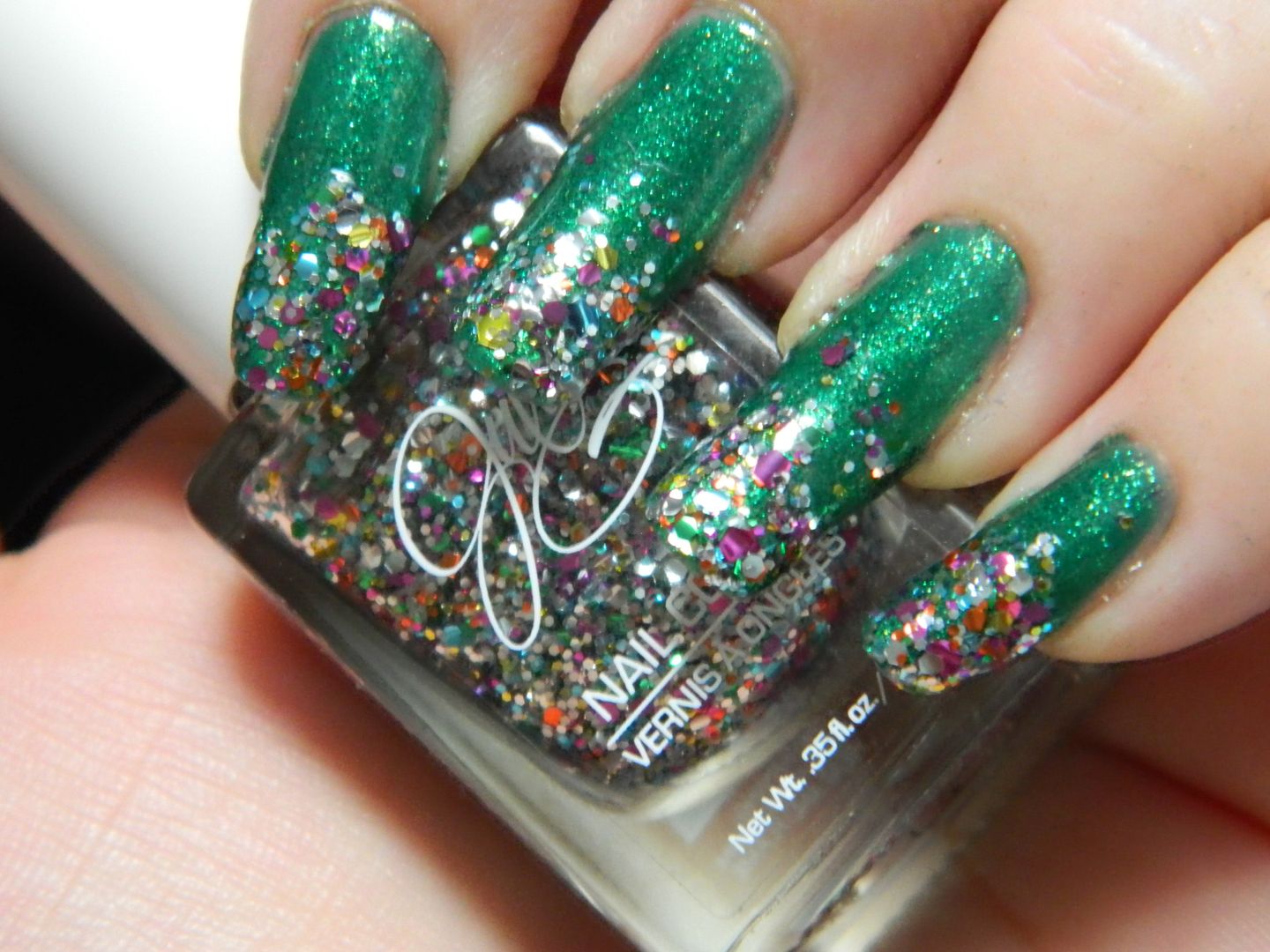 What do you guys them? I'm totally dying over so many of these shades! I think by the descriptions the shades that most stand out are Sugar Rocks, Umbrella Drink, You-niverse, & Holla-peno! I can't wait until I start seeing more ore these shades!