Friday, September 13, 2013
Thursday, May 23, 2013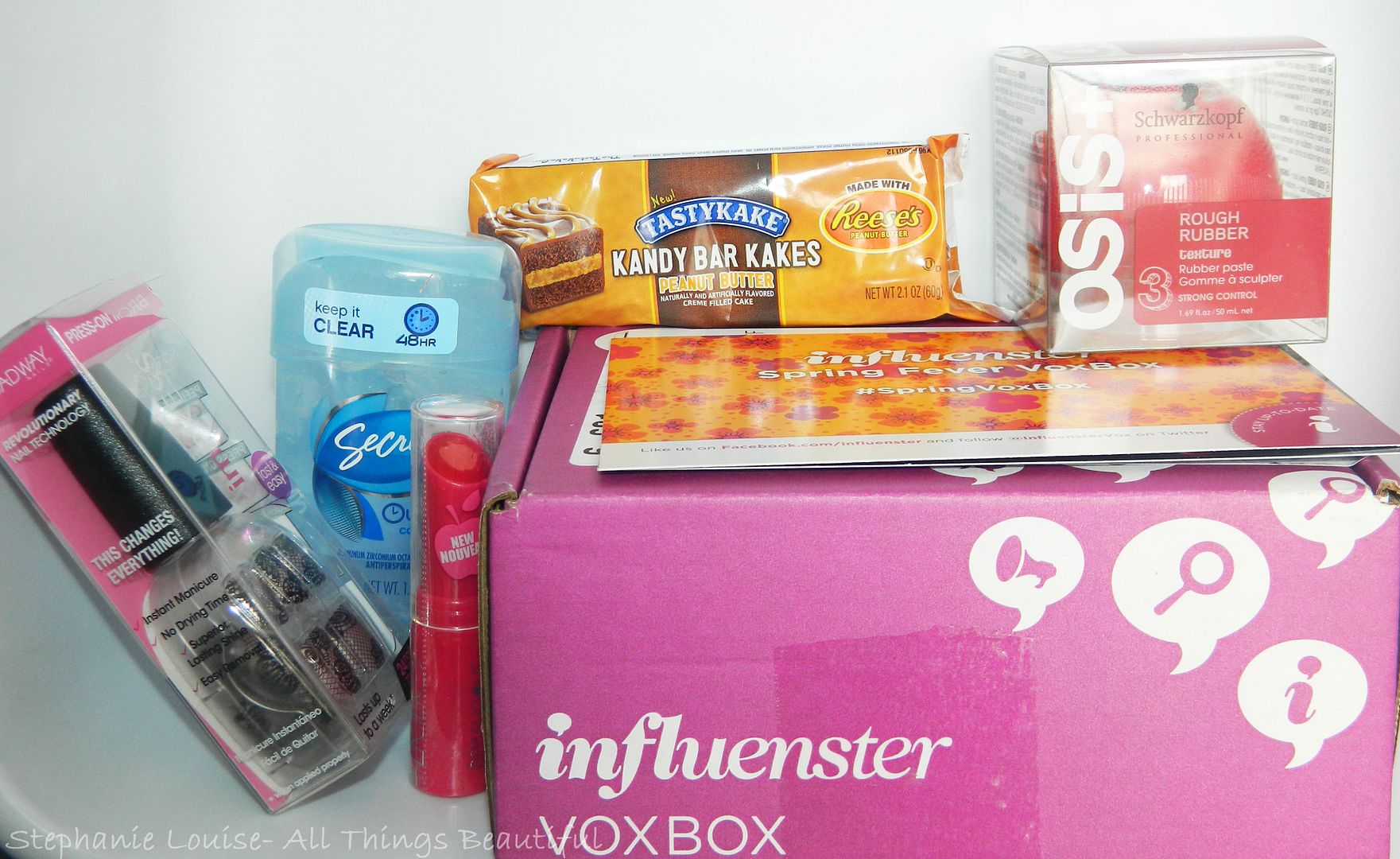 Quick post today because I have a crazy busy day planned but here's my Influenster Spring Fling Vox Box! I'll be reviewing items in upcoming posts so do stay tuned for those. Influenster sends out boxes for no charge to influential members to try out & share. If you join you won't be compensated, it is just fun to try out some new products!
Monday, December 31, 2012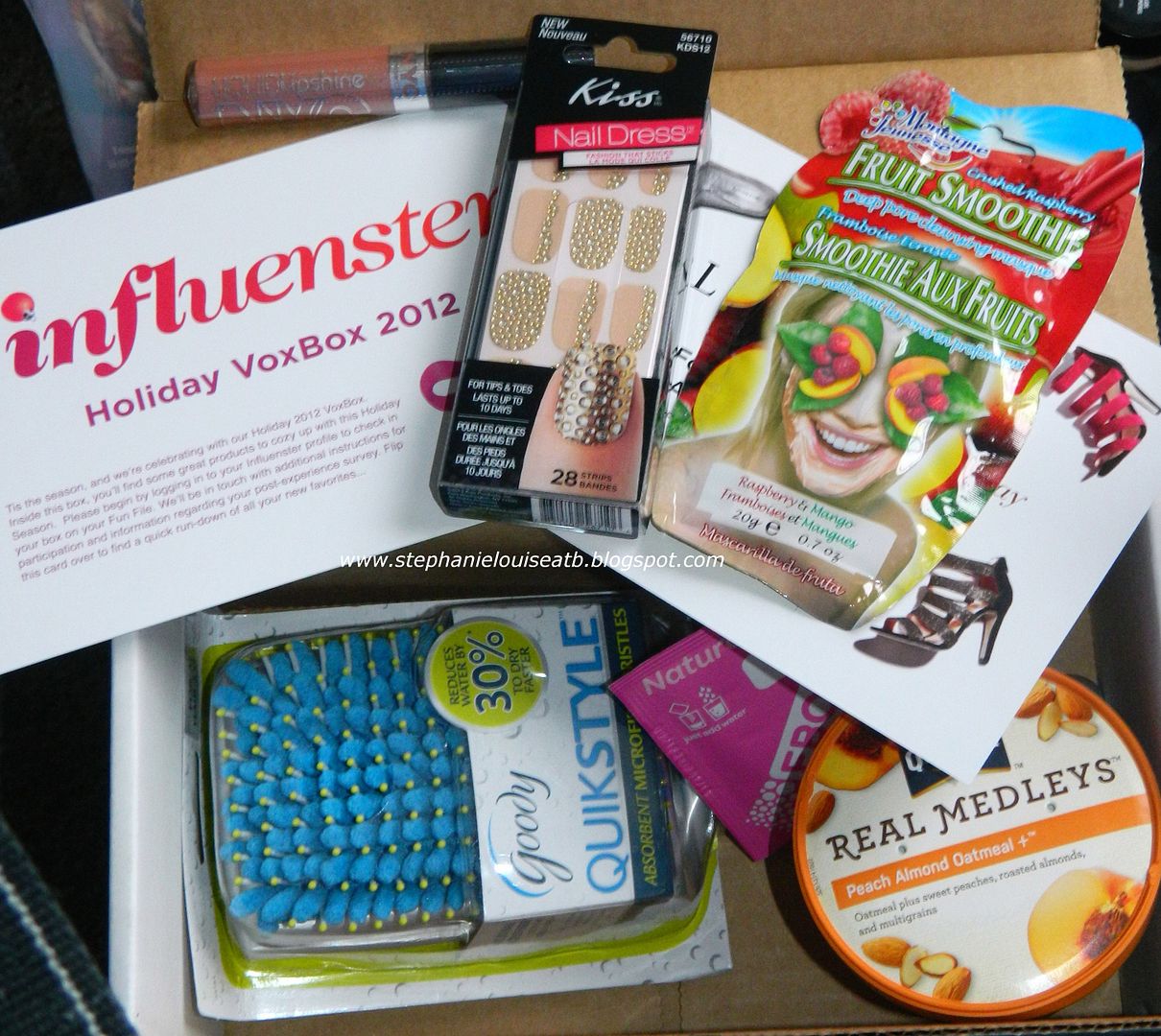 So for some reason, mine came really late! If you aren't familiar with
Influenster
, I have gotten multiple boxes & you can see lots of previous boxes by searching in the search bar in the upper left of the blog. Basically Influenster is a site that matches you with specific boxes which they then send you, you review, & you earn badges, prizes, & other goodies. To check out
Influenster
,
check out their website here
.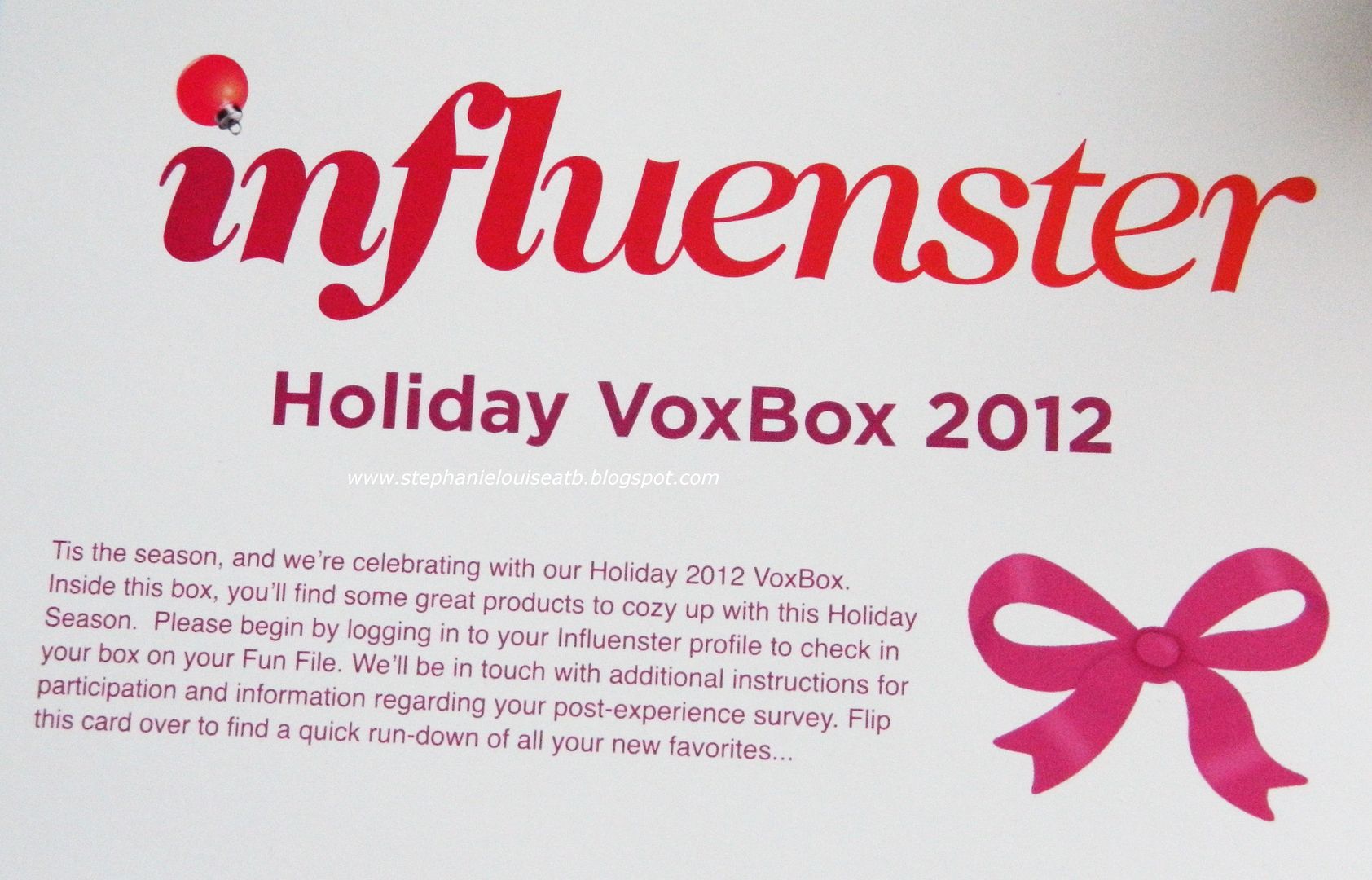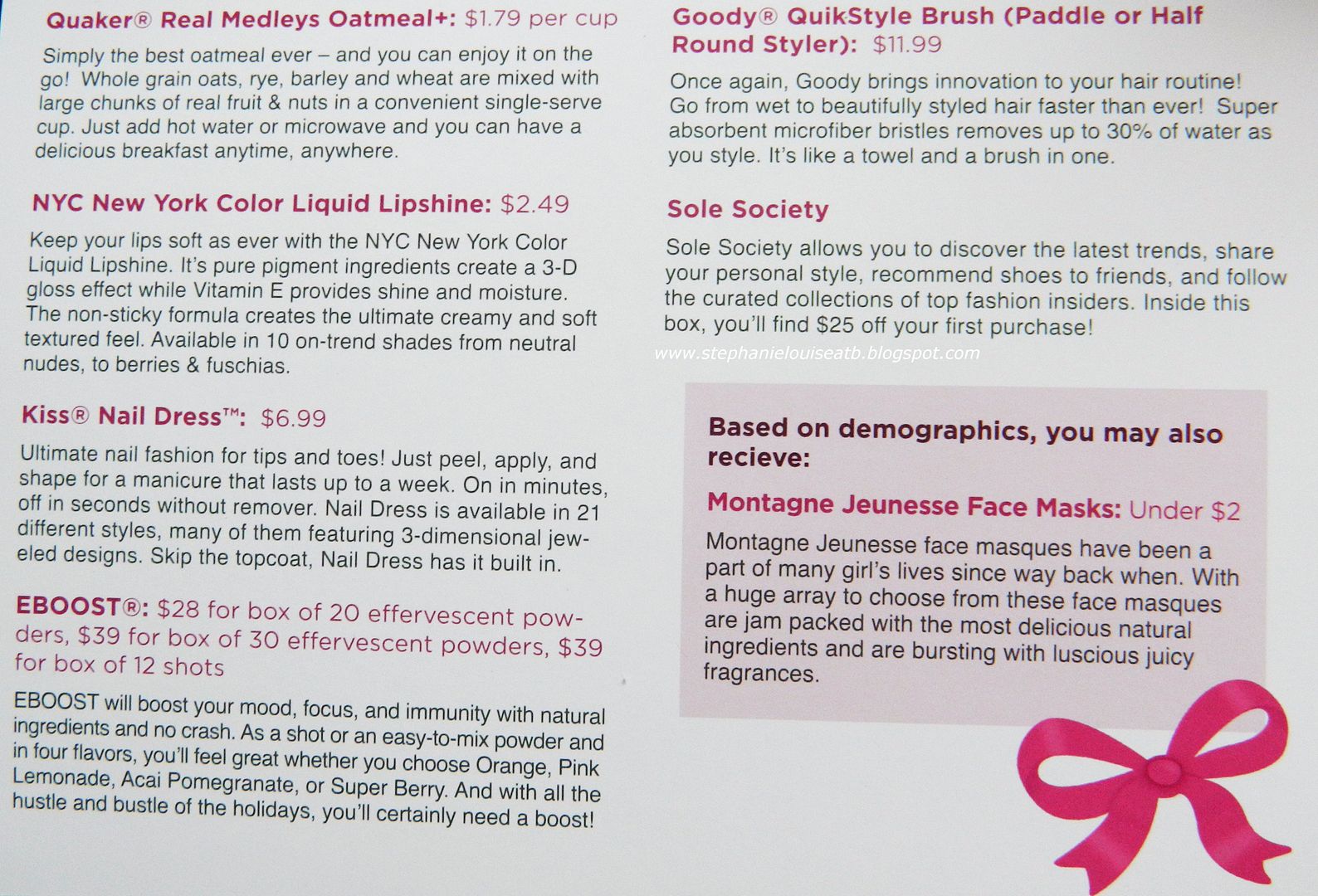 Here's what I got!:
- NYC New York Color Liquid Lipshine in Nude York City
- Quaker Real Medleys Oatmeal in Peach Almond
- Kiss Nail Dress in the pattern Baby Doll
- Montagne Jennesse Face Mask in Raspberry & Mango
- Eboost in Pink Lemonade
- Goody QuikStype Microfiber Brush
So there we go! This is just giving you a look at what I got altogether & what will be popping up on the blog! Did you get the Influenster Holiday Voxbox? Any items catch your eye?
Posted by StephanieLouise
at 7:46 AM
Comments


Labels: Brush, Drinks, face mask, Food, Hair, holiday, Holiday 2012, influenster, Kiss, Kiss Nails, Masks, Nail Strips, NYC, Tools, VoxBox
Thursday, November 15, 2012
I received this palette as part of my
Influenster  Beauty Blogger Vox Box
so I thought I'd show you guys what it is like! I absolutely LOVE some NYC products, especially the glosses & loose powder. I don't think I had tried the compact sets like this before, just the duos, so I was in for a pleasant surprise.
Posted by StephanieLouise
at 5:41 AM
Comments


Saturday, October 27, 2012
Hey guys! It has been a LONG time since I had a box from Influenster. I had qualified for quite a few but then they weren't getting shipped to me. Now that it is all fixed (I hope!) I can show you my newest Vox Box. They completely redid their whole site & I'm still getting a feel for it. I definitely hope it will be more user friendly but I won't really have any final thoughts until the end of the campaign!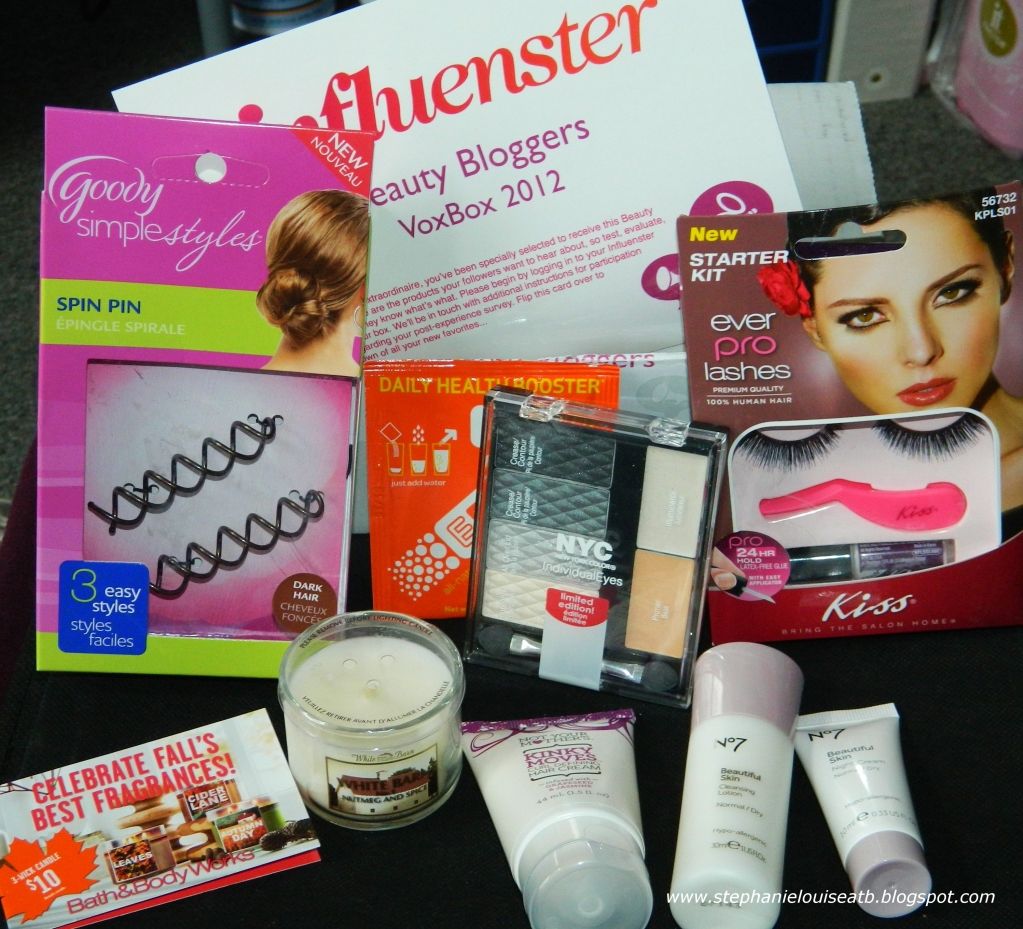 Obviously, I wanted this box pretty bad. The Beauty Blogger Vox Box? Gee...could that be any more up my alley? Okay maybe it could be a "Sushing Loving Beauty Blogging Dog Obsessed Military Wife Glitter Addicted" Vox Box...think they'll take my tip?
This is just a brief overview + video with my first impressions. I won't write out too many descriptions here because it is all in the video. This is the best Vox Box I've ever gotten so I'm hoping the remodel did them a lot of good! I know I am impressed so far!
Inside the Beauty Bloggers VoxBox 2012:
-NYC New York Color Individual Eyes Custom Compact ($4.99) in Dark Shadows
- Kiss Ever Pro Lashes starter Kit ($5.99) & I believe these are 05 lashes
- Bath & Body Works Mini Candle ($3.50) in the scent White Barn Nutmeg & Spice
- EBOOST Daily Health Booster ($28 for a box of 20 powders)
- Goody Simple Spin Pins ($7.29) for Dark Hair
- Not Your Mother's Kinky Moves Curl Defining Hair Cream ($6.00 for a full size)
Bonus: Some people received bonus items & I happened to get the Boots No. 7 Beautiful Skin Cleansing Lotion for Normal/Dry Skin & Night Cream for Normal/Dry skin. I have been meaning to try some more Boots No. 7 products so they read my mind!
Look out for reviews &/or demos of these products in the future! To check out Influenster, just go to
http://www.Influenster.com/
This isn't an affiliate link or anything, just placed for convenience. These products are provided & shipped free of charge to members. You do need to do some surveys/reviews so don't consider them freebies! I am very excited to see what the new Influenster has in store!
What do you think of the items I received? Anything you are most excited to see more about? Are you a member of Influenster?
Tuesday, May 29, 2012
Every once in awhile, you score something undoubtedly awesome at Dollar Tree. I'm the first to admit I always walk out with something I don't actually need, but I'm pretty sure its because everything is $1. I've been stalking my local store praying that the NYC cream blushes that have been discontinued would hit here. I love cream blushes, especially in the summer. I like to layer a cream & powder for staying powers or where cream blush alone (sometimes just with tinted moisturizer) for a natural flush.
Left to right: NYC Blushable Creme Stick in Urban Spice, Mauvin' Uptown, South St. Seashell, Big Apple Blush, & Berry New Yorker.
I waited or so (IM)patiently & here they are! I'm actually pretty happy with the color selection. For me, these shades are perfect.
Left to right:Sally Hansen Diamond Strength Nail Polish in Rose Amore, Sally Hansen Insta-Dri Colors in Raspberry Race (a lovely orchid), Uptempo Plum Presto Pewter, & Teal-y Fast.
I wasn't expecting these Sally Hansen shades to be there so they were a lovely surprise. Obviously I need more nail polish right? I actually tend to like the Insta-Dri colors & I don't think these have surfaced at the Dollar Tree here before.
Maybellin Lip Express Lipstick n Liner in One in Fleeting Fawn (top) & Get Mauvin' (bottom).
These Maybelline pencils aren't something I remember seeing in stores. I picked one up awhile back on a whim in Fawn & I really love it. After doing a bit of makeup research, I around reviews for these pencils from around 2001. These were touted as being super long wearing & they didn't get very good reviews. HOWEVER, I like these quite a bit. They are more like moisturizing lipstick pencils. I wouldn't say they're long wearing but they are comfortable to wear which is great for me plus application is easy. Plus, I love the wood, these just look so cool.
Do you ever shop deals at the Dollar Tree? I've definitely had my share of hits & misses!
Tuesday, January 10, 2012
Do you go through gloss phases? I so do. I recently went through my purples & now I appear to be on my nudes. Although nudes are always classy, I'm having serious nude love. Nude love? Yes. I was so excited when I received my Nude York City Liquid Lip Shine from NYC in my Holiday Vox ox from Influenster. Right on the money!
NYC has seriously stepped up their game & whether its the price point or the products themselves, I've been having a heck of a time finding them. I went into Walmart to purposely buy some more & the display had been ransacked which left me empty handed. Boo. On a bright note, Nude York City gave me a reason to go at all!
So first off, these have normal lip gloss packaging. Nothing crazing, but sufficient.I love the same, "Nude York City" is really cute. I also love the wand which is similar to the Revlon Colorstay wands with the flexible tips. I want to see more of these types of wands, I'm hoping for a revolution because they're that good.
The texture of this gloss is spot on. It is non-sticky & very creamy. It is also extremely moisturizing without being watery. However, because it feels so fab & doesn't have that sticky texture, it also doesn't have the lasting power many crave. Personally, I think this is an amazing lipstick topper or a gorgeous gloss I can apply without a mirror. Its somewhat sheer but you can visibly see its nude with a silver glitter sheen. The glitter is super fine so it comes off as a healthy glow.
Feel free to check out this shade & many others at
www.newyorkcolor.com
& remember to check out
www.influenster.com
for information on you you too can review products such as this.
*Item(s) sent to me for review are featured in this post. This in no way guarantees coverage. All of my reviews and reactions are honest, I would never recommend something that didn't deserve it. For more information, please see my disclosure policy in the top bar.*
Posted by StephanieLouise
at 8:09 AM
2 comments


Monday, December 26, 2011
This is running a little late, but I needed to give it the time it deserved. Here we go, my Holiday Vox Box from Influenster! If you aren't aware of what Influenster is, please feel free to refer back to my
first Vox Box Post Here
& that will lay it out. As always, these items were sent for review by Influenster, thus making it a Vox Box! haha
Here's my video of the unboxing & beneath that is the product info, enjoy!
imPress Press-On Manicure by Broadway Nails
What they say:
Introducing imPress Press-On Manicure by Broadway Nails, the revolutionary way to apply polish! Featuring advanced nail technology, you can get a salon-perfect manicure in seconds – simply peel off, press on, and you're done. There's no drying, a killer shine and a manicure that lasts up to a week! And, imPress is so easy to remove, you can change it up to match your mood as often as you want. Check out all 36 colors and patterns, including trendy brights, classic darks and animal prints. With imPress, your nails will always be your best accessory.
First Impressions: I absolutely adore this packaging! I can even see me buying more of these & using the bottles as decorations in my makeup room! The shade I recieved is "Working Girl", a silver glitter & black crackle combo. I will do a full review soon! 
Where to buy:
imPress Manicure retails for $5.99 for colors and $7.99 for patterns, and is available at CVS, Rite Aid, Duane Reade, K-Mart, Walgreens, Walmart and more.
Saturday, December 24, 2011
So quick post for my nail polish lovers! A lot of you expressed interest in the Sally Hansen Quick Manicure Pens I reviewed
HERE
&
HERE
. I personally like them, but won't pay much for them because of the issues I had, but $1? Oh yeah, I can swing that! I saw these at my local Dollar Tree in all of these shades & more. Stocking stuffers perhaps?
I also saw almost the entire NYC Broadway collection in duo packs, which means 2 for $1. I really like a few of them & will be adding a few to Christmas gifts this year. I especially love the beige, navy, & burgundy shades so far. More info on those to come!
What have you guys spotted?
I'm sorry I haven't been able to get much posting done today....my pictures on blogger are NOT cooporating!
Happy Holidays to All!
Friday, July 22, 2011
I ordered some new filmo slices and I was so excited to try them out! I have quite a few types, but this time I went with a tropical theme :) Here it is!
Thumb- Passion Fruit
Pointer- Lemon
Middle- Kiwi Fruit
Ring- Lychee Fruit
Base Coat- Nail Life Nail Revitalizer Treatment
Top Coat- Nail Life Speed Demon Polish Dryer
White to Make Colors Pop- Sinful Colors in Snow Me White
Left to right:
Green- Sinful Colors in Innocent
Yellow- Icing by Claire's Nail Color in Butta
Pink- Sinful Colors in Pink Forever
Orange- NYC Long Wearing Nail Color in Times Square Tangerine Creme
Red- Maybelline Express Finish in Red Cavier
Have you ever toyed with Fimos? If you have a blog post or picture, feel free to link it below!
Wednesday, July 6, 2011
So here is my quickie water marbling! I mostly was just testing these colors for future marbling. Stay tuned for more!
FYI: I use the tape method to get rid of some of the mess pre-marbling :)
Left to Right: Sinful Colors in Pink Forever, NYC in Times Square Tangerine Creme, Icing Nail Polish from Claire's in Butta.
So what do you guys think? Any color combos you'd like to see? Any of you use this method?
Tuesday, June 28, 2011
Hey all! I have been given this award by The Unknown Beauty Blog to list my top 10 favorite products! I really couldn't pick my overall favorites(there's like 50!) so I did my favorites of this summer :) They're not in any specific order though, I was going to but man it was too hard!
1. Walgreens Brand Alpha Hydroxy Face Cream- I've been so addicted to this! I tried it kind of on a whim, but I haven't looked back since. I've bought other AHAs since this one, to see if there's a difference. There isn't. This is the best my skin has been in ages and THIS is why.
2. NYC Smooth Skin Bronzer in Sunny- This has a cult following. I have 10 in stock since I'm pretty sure they're being discontinued. Do I need to say more?
3. Hard Candy Sheer Envy Perfecting Primer- I've tried all the face primers, but this has been my favorite so far. I live in a hot climate (like really hot) but I still get dryness. So between sweating and dry spots, this is the winner.
4. Stila Fabulous in Fiji Travel Palette- Honestly I was pretty skeptical about this...but I really liked the green color (see below) and the adorable case. Oddly enough I've used it a lot and I love the bronzer!
5. NARS Velvet Matte Lip Pencil in Roman Holiday- Classic sweet pink. Excellent texture. NARS quality. Win.
6. Revlon Makeup Eraser Pen- When I'm doing my makeup on the go or when I'm experimenting, this is my lifesaver. I have one in my purse and one in with my makeup brushes. Great when OTHER people screw up their makeup too.
7.ELF Waterproof Eyeliner Pen in Midnight- My favorite marker type eyeliner, and Ilove the blue hue. I think it really makes my eyes pop. I love that I can wear it alone too, so its easy to do my makeup in the car. My best friend also uses this daily before work in HER car too!
8. Victoria's Secret Lustre Eyeshadow in Private Beach- Beautiful, creamy, and my perfect nude. I am never disappoint. I just swipe it on with my finger and fall in love every time.
9. ELF All Over Color Stick in Spotlight- My perfect highlight. Great on everyone too. Catches the light on my inner eye and my cheekbones. I have these little babies in all the colors, this one is just the most versatile. Golden peach comes in second for summer.
10. Urban Decay Ultraglide Lip Color in Heat- Long lasting gloss in a lighter red with gold flecks. It makes my lips pop and the gold is my favorite part. Its a statement color so I tone down everything else. It isn't one of those advertised as long lasting, but I find it is!
The inside of my Fabulous in Fiji Palette.


These are my top 10 so far this season! I want EVERYONE to do this post because I love to read them! I am specifically tagging
E's Beauty Blog
,
Princess Paradise
, and
Frugalspender19
!!! If you do this post please tag me and comment so I can see your post!